Year-Round Care Package Collection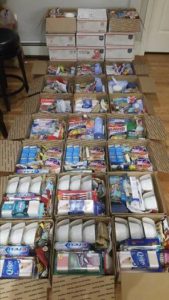 Nothing says home to a soldier like a care package. We collect basic hygiene, health and food items, organize them into boxes, and distribute them to military bases throughout the world.
Instructions & Guidelines
Contribute as many items as you are capable
Travel size or single serve items, only
Pack items in a box and secure them with bubble wrap or other fillers
Mail to
Heartillery Group
PO BOX 2649
Ponte Verde, FL 32004
(904) 466-7864
Soldiers Need
Shampoo & Conditioner
Deodorant
Hand sanitizer
Eye drops
Cough drops/hard candy
Socks
Tooth Paste
Toothbrushes
Mouthwash
Tampons
Maxipads
Baby wipes
Hair elastics
Combs
Hair Brushes
Emery boards
Nail clippers
Razors
Shaving cream
Lotion and moisturizer
Toilet paper
Shower gel
Powder
Antibacterial cream (Neosporin)
Tylenol
Advil
Band Aids
Hand lotion
Air fresheners
Hand sanitizer
Socks
Shower slippers
Soldiers Love
Beef Jerky
Chips
Popcorn
Doritos
Pretzels
Candy (chocolate can melt)
Gum
Little Debbie snacks
Oreos (lunch size, sand issues)
Cookies (again, sand)
Crackers
Chips
Popcorn
Trail Mix
Granola Bars
Coffee (single serve)
Protein Bars
Anything you can add water to…
Soups
Mac & Cheese
Donate Now!
We need your financial contributions, both large and small, to execute many urgent and time-critical initiatives around the world. Thank you for your support!