Sending Soldiers Love, One Heartfelt Card at a Time
Heartillery Group's mission is to show love and gratitude in simple ways to those who serve
Heartillery began as a simple family act of support and connection and has blossomed into an ongoing global campaign whose goal is to ensure that no active service member or veteran feels alone or unappreciated.
Heartillery Group was created by Emily Spencer, whose husband Scott was deployed to Afghanistan three months after their wedding.
What do we do?
Support for our  troops
Offer support to the Military in every way we can
Collect and send thank you cards for soldiers
Collect and send letters to soldiers
Assemble and send care packages to soldiers
Veteran support
Military family support
Heartillery works to collect, assemble, and mail cards, letters and care packages to military personnel deployed across the globe.  Heartillery Group has sent over five million cards and 10,000 care packages to service personnel overseas since its inception in 2013.  We work with schools, religious organizations, seniors, veteran's organizations, corporations, businesses, and other caring communities.  We are always looking for additional support!
Our Core Values
Love

Gratitude

Service

Generosity

Compassion

Education

Community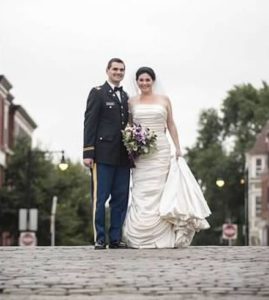 Emily Gordon and Scott Spencer were married Sept. 29, 2012 in Cambridge. They met while studying at Harvard. 
By Bella English, October 20, 2013
Read
Heartillery Group is a registered 501(c)(3) organization. Donations are tax deductible to the maximum extent allowed by law. Our Federal Tax ID number is 47-1692737.
YOUR GIFT IS VERY MUCH APPRECIATED AND MAY BE TAX DEDUCTIBLE PURSUANT TO IRC §170(C) AS A CHARITABLE CONTRIBUTION. A COPY OF HEARTILLERY GROUP'S [CORP. DOC. #N20000003177] LATEST FINANCIAL REPORT MAY BE OBTAINED BY WRITING TO HEARTILLERY GROUP, 830 A1A NORTH SUITE 13-189 PONTE VEDRA BEACH, FLORIDA 32082 | (904) 466-7864. A COPY OF THE OFFICIAL REGISTRATION AND FINANCIAL INFORMATION MAY BE OBTAINED FROM THE DIVISION OF CONSUMER SERVICES BY CALLING TOLL-FREE, 1-800-435-7352 (800-HELP-FLA) WITHIN THE STATE. REGISTRATION DOES NOT IMPLY ENDORSEMENT, APPROVAL, OR RECOMMENDATION BY THE STATE. FEDERAL TAX ID NUMBER 47-1692737.
The number of women and men currently serving according to the Defense Dept.
United States & The Americas