And The Winner Is…

Title: Camo Christmas Tree
Artist: Claire Malley, age 9, Boston, Massachusetts
Why Showing Love & Gratitude for those who serve is important

Claire is grateful for her uncle who served our country and believes our troops work really hard for our freedom. She also believes all of our troops and veterans deserve our love everyday.
Design Story
An amazing Camo Christmas Tree with an anxious cat and dog awaiting Santa's arrival with cookies and milk

About Christmas In July and Mission Holiday Cards 2021

Christmas in July is a fundraiser and design contest to select the official holiday card cover art for Mission Holiday Cards 2021 – our flagship annual initiative to send holiday cards to those who serve. Our 9th annual Mission Holiday Cards 2021 will be our biggest ever with more than 1 million cards expected to be sent from Halloween to New Years.
Card packs featuring the winning Camo Christmas Tree design are available as a gift to donors who give $25 or more through January 2022.
Donate $25

Receive a Pack of 10 Official Camo Christmas Tree cards as Our Gift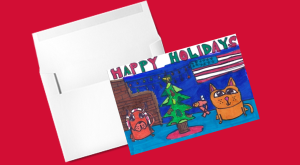 Proceeds help pay for shipping boxes of cards for our flagship Mission Holiday Cards 2021 campaign. Donate in multiples of $25 to receive more packs of 10 cards and envelopes. Use cards to support Mission Holiday Cards 2021 or for personal use, your choice.