Christmas in July is a fundraiser and design contest to select the official holiday card cover art for Mission Holiday Cards 2021.  The winning card design will be sold to Heartillians in card packs for personalization with their messages of love and support to our troops. 100% of the proceeds from the holiday card sales will be used to pay for shipping boxes of cards to soldiers serving away from home during the holidays.
Calling All Artists!
Artists of all ages are eligible and encouraged to submit a design using the Entry Form postdated no later than July 19. 2021.  The winner will be announced via Heartillery's social media on July 30, 2021 and will receive a $250 Amazon Gift Card! More details can be found on the Entry Form.
Mission Holiday Cards 2021 Fundraiser
Christmas in July is a fundraiser to support Mission Holiday Cards – our flagship annual initiative to send holiday cards to those who serve. Our 9th annual Mission Holiday Cards 2021 will be our biggest ever with more than 1 million cards expected to be sent from Halloween to New Years.
Each US Postal Service box we send contains approximately 350 cards and costs Heartillery $18.45 to ship. Proceeds from the holiday card sales will help cover some of these costs.
Holiday card packs featuring the winning design will be available for purchase starting the end September to January 2022 through the Mission Holiday Cards campaign.
Learn more about Mission Holiday Cards
Contest Entry Form
Christmas in July Holiday Card Design Contest (pdf)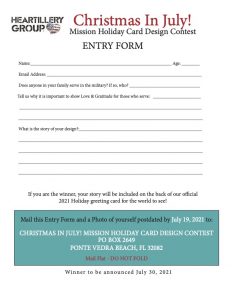 Shareable, Printable Flyer
Heartillery Christmas in July Flyer (pdf)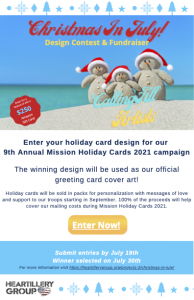 Donate Now!
We need your financial contributions, both large and small, to execute Mission Holiday Cards and other urgent initiatives to collect, organize, and mail cards. Each US Postal Service box contains ~350 cards and costs $18.45 to ship to those who serve.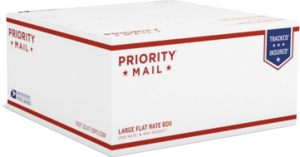 Please consider a donation of $20 or more to cover the box cost of mailing 350 cards. Thank you for your support!